Outerspace Urban Design – Its Human-Nature
30th March 2021
Discover why our human-nature design philosophy shapes urban spaces for both people and planet. Connecting humans with nature, nature with nature and humans with humans.
The challenge
Over the course of human history our relationship with the natural world has shifted dramatically to the point of near disconnect. We are now deep into what Laureate Paul Crutzen termed the Anthropocene, a new geological era where humans – not just nature – are a major driver of earth systems.
On 23rd May 2007, for the first-time urban populations exceeded rural. As urbanisation intensifies, the detrimental impacts on the environment ripple out further and further beyond the city.  The recent David Attenborough documentary 'Extinction' acted as a sobering reminder that the time to act is now, if not for the planet, then for ourselves, and the city is the battle ground to save the world.
Connecting humans with nature
The recent UK Landscape Architects Declare Campaign acknowledges the positive impact our profession can have on tackling the twin crisis of climate breakdown and biodiversity loss. A key step towards a sustainable urban ecology will be to reconnect humans and nature. Quite simply, unless people experience the natural world in their everyday lives, it will not register as something worth saving. By balancing people's needs with the needs of the biosphere Outerspace strikes a creative harmony to show how nature can thrive in the heart of the city, ensuring green encounters become part of our everyday lives.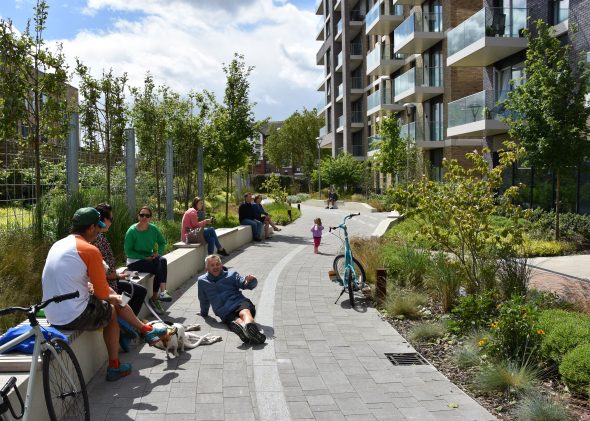 Queenshurst, Kingston – Linear Park Designed and technically delivered By Outerspace for Berkley Group.
Connecting nature with nature
A human-nature approach is about us as designers being less ego and more eco. Gone are the days of grand egotistical design moves which evoke pleasing geometry in plan but do little for people and wildlife on the ground.
We need to recognise there has never been a balance in nature, only flux. Allowing urban landscapes to shift and succeed naturally brings delight in the new, as different flora and fauna arise and others move on. Of course, some projects have scope to become wilder than others, but as Landscape Architects and as a Practice we are committed to supporting the trend towards a wilder, dynamic and more sustainable urban ecology.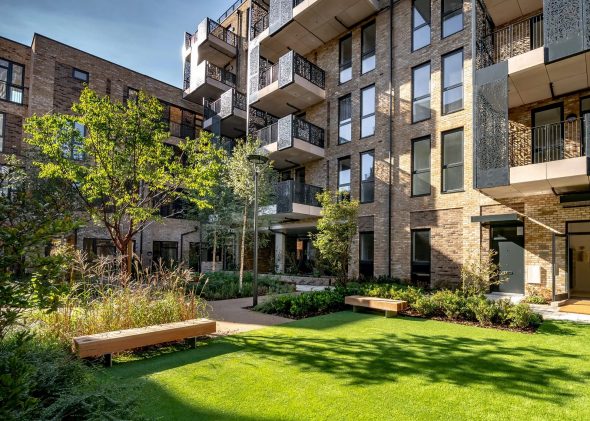 The Levers, Elephant and Castle – Streetscape and communal podium gardens designed and technically delivered by Outerspace for Peabody
Connecting humans with humans
Despite people living closer together than ever before, society has never been so disconnected. Loneliness is a growing epidemic which effects the mental and physical health of all ages, not just the elderly. It is therefore paramount that we focus our designs to foster social connections at every level, from creating chance encounters with neighbours through to curating large cultural events.
A crucial ingredient to a socially cohesive landscape is simply creating comfort. Giving people plenty of opportunities to sit and seek shade, sun, avoid noise and escape from overlooking eyes above. When people feel comfortable, they are likely to stay, relax, arrange to meet others, bump into friends and neighbours or even form new social connections. Lush planting and mature tree canopies are some of the design tools we use to create comfort even in the most technically challenging urban settings.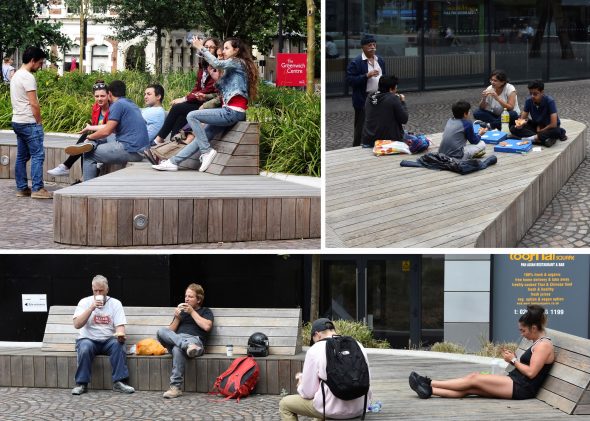 Greenwich Square – Public Realm and Sculpture designed and technically delivered by Outerspace for Hadley MACE
At every opportunity Outerspace weaves the needs of both humans and nature into our urban fabric. Achieving this balance is essential for the welfare of everyone and everything throughout the city and beyond. To us at its Human-Nature and it is a design philosophy we will continue to proudly deliver this urban century.
Click here to see more examples of our work and the breadth of services provide
By Alex Lowenhoff, Landscape Architect